How to Set Up an Office Studio, without Breaking the Bank!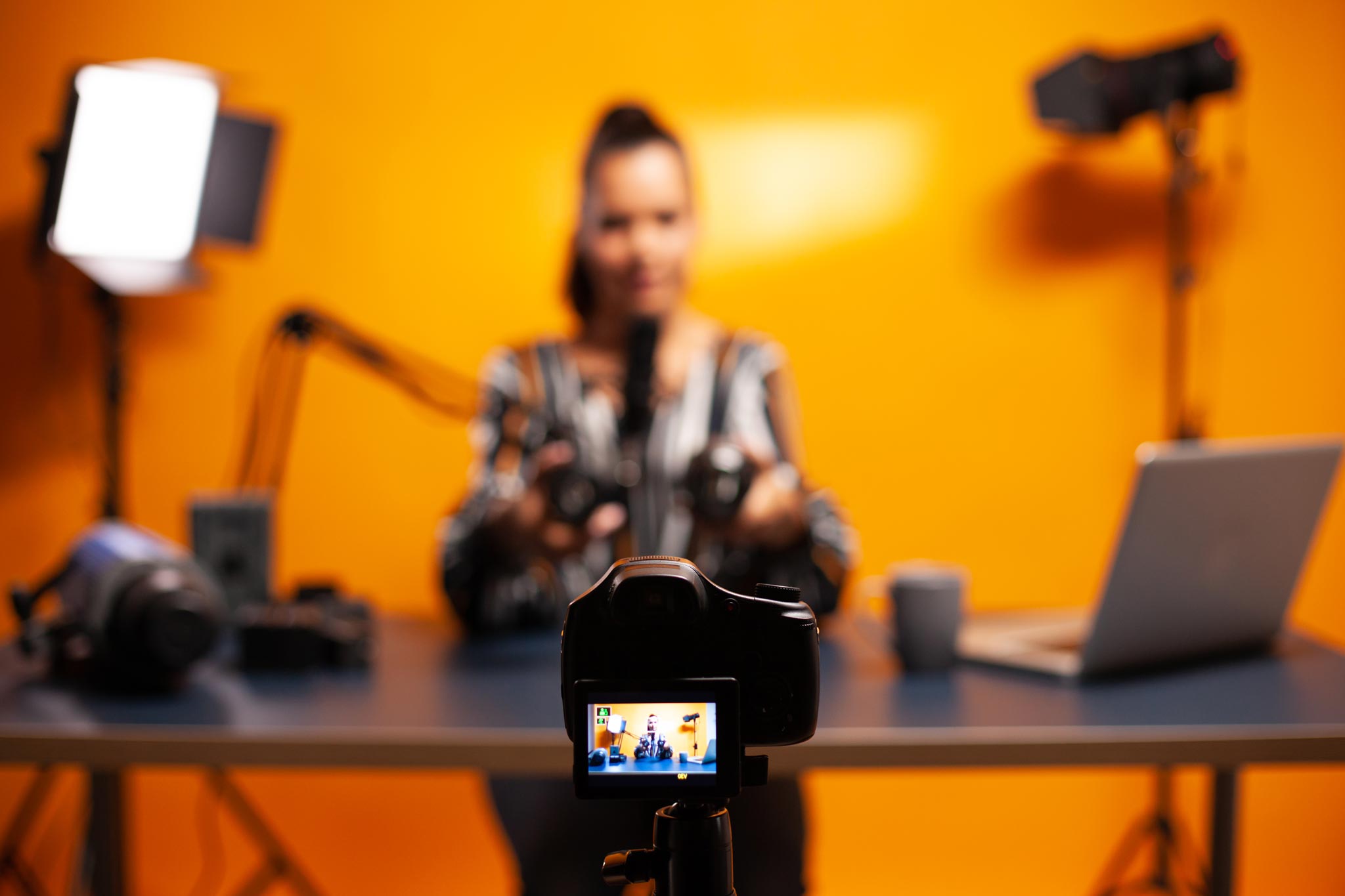 Need A Studio for Podcasting, Webinars or Filming Content?
And… don't want to spend a fortune?
Firstly, please understand that I am not tech-head, AV guy or expert in any of this!
I had a crack at setting-up studio to broadcast globally from the home office, starting with a basic set-up, and then iterated. Here is exactly what I bought and where I got it, with a couple of exceptions. For example, grab the Panasonic Lumix SLR Camera from Amazon, rather than the dodgy grey importer, who I would learn, got it from Hong Kong which took several weeks!
Ok, think… Quality Audio, Camera, Lighting.
Little things are the difference between looking/sounding professional/credible verses 'backyard'. For example, check the first 5 seconds of this lighting video which talks about 3-point lighting.
Shopping
I suggest shopping this stuff at JB HiFi if you need to go in person, or if you can wait a few days Amazon Prime rocks. You might also check eBay to compare prices. And a couple of little parts might require specialist stores, also online.
Budget
Consider spending few grand in gear to get the level of professional 'finish' that I feel comfortable with. That might sound like a lot, but compared to colleagues who have spent $150k+, it's not so bad?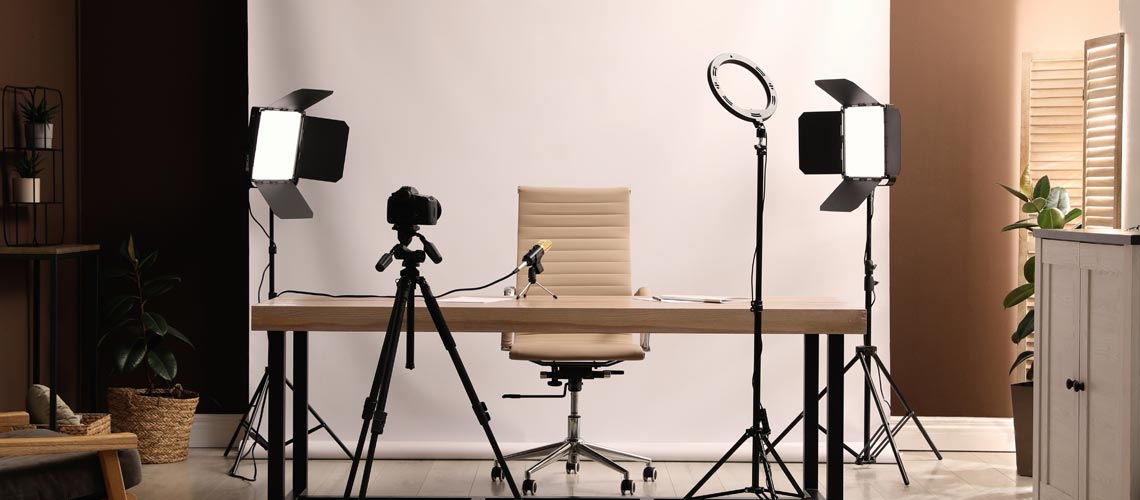 Need more help?
You might also consider saving some time and heart-ache by having a professional videographer set it up the first time? DISCLAIMER: I am not your man to set this up.  Or fix it when things go wrong. But I can put you in touch with professionals who might be able to help.
A final suggestion for live streaming, be sure to Get. Good. Internet. Period.
And a WATCH-OUT: No-one can guarantee a seamless experience across the streaming platforms (Zoom, Teams, Hangouts…). And if someone says, 'I.T. says we have to use CISCO', don't walk – RUN! (I will share more about the broadcast platforms, with some tricks and tips in the next post.)
For now, read on for my thoughts that I hope will save you some time in trial-and-error based on what I learnt over the past year or so, iterating and improving the studio set-up.
Good, Better, Best Options!
1. A (very) Basic Set-up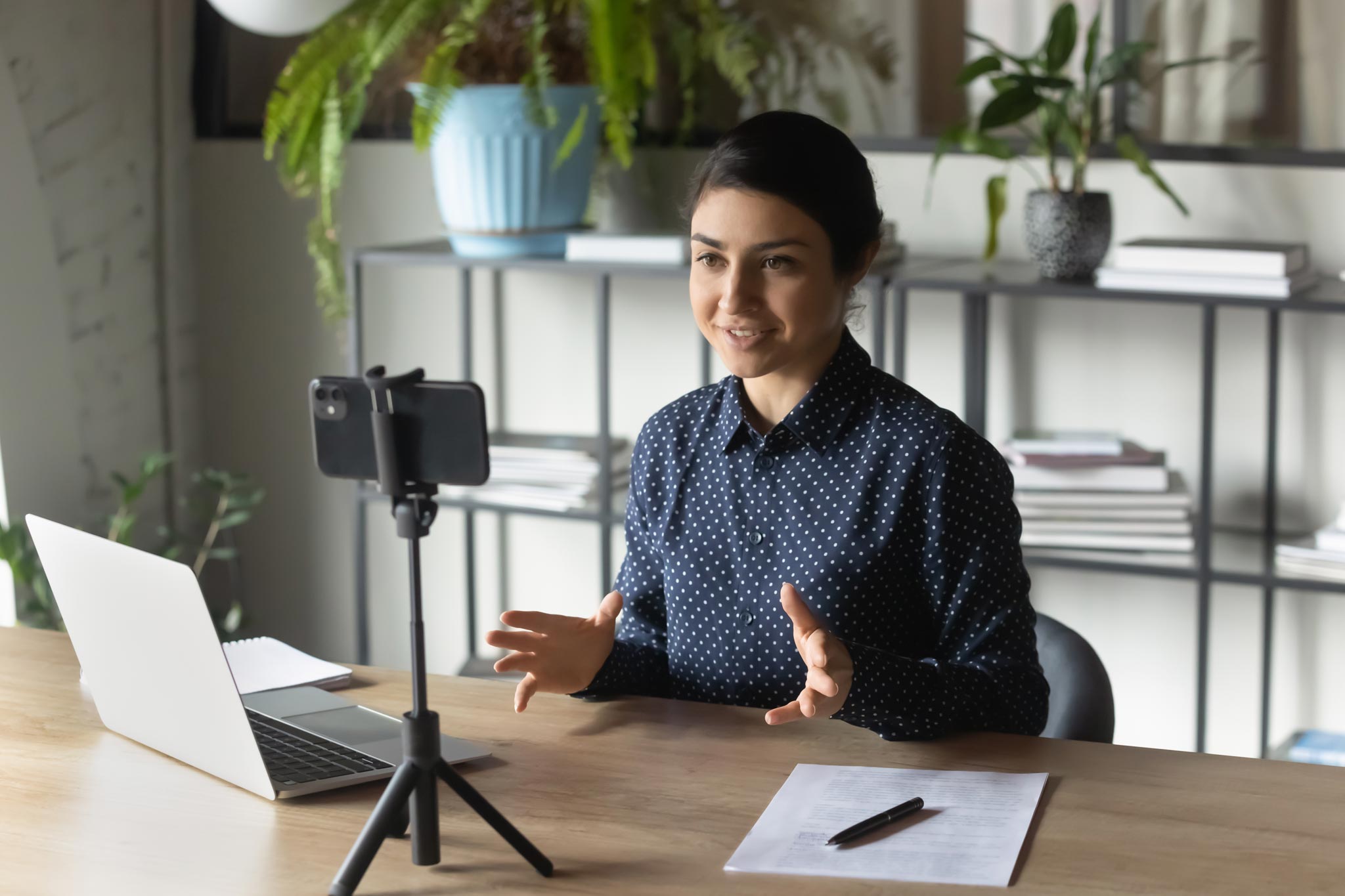 Need to do a quick piece to camera?
Whack the new iPhone 12 Pro (incredible camera, especially in low-light) into a stand, connect a Rode lapel mic and stand facing the window – done! It's portable, cheap, and still really quite reasonable production quality.
Top Tips
Tip #1: Grab a 6M extension: RØDE SC1Rode SC1 6m TRRS Extension Cable $23
Tip #2: Get the duel input adaptor for iPhone $79
Tip #3:  Grab a second Lavalier Microphone and whack it into an adaptor, for 2 person interviews.**
** NB. Skip buying this now, if going straight to the 'best' option… the Rode Go Kit includes another Rode Lavalier Microphone.
Tip #4: Lighting: Face the window. (However, clouds – or noise from cars, etc – are likely to stuff you up, as the come across, in my experience).
Tip #5: Optional Extra (to avoid leaning your phone against the wall, on a stack of books!): Professional Camera Tripod Stand Mount Remote + Phone Holder $30
---
2. A (slightly) Better Set-up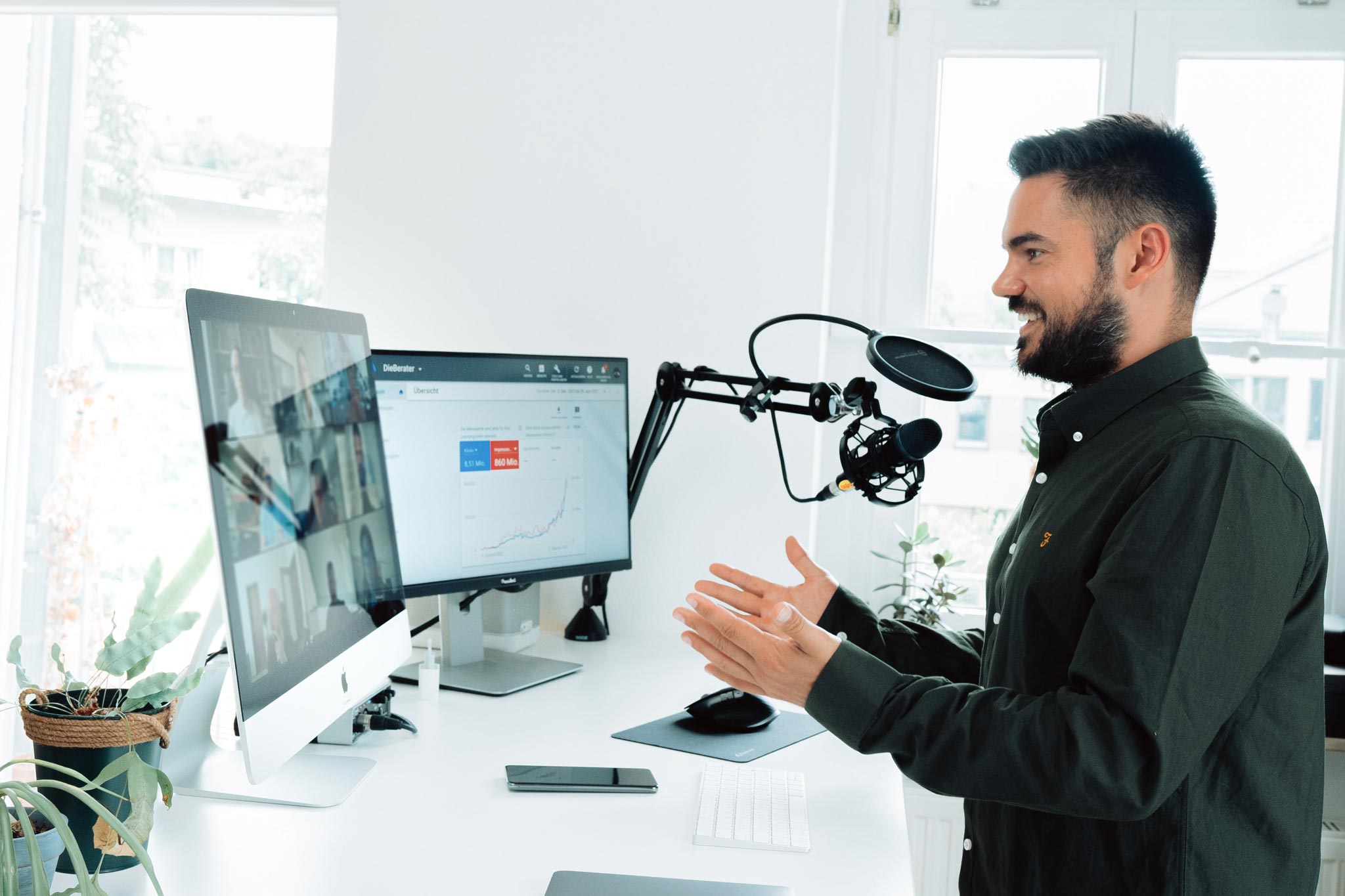 Video Conferencing Set-up for Day-to-Day
Webcam: 

Logitech C922 Pro Stream HD $156*

* NB. There might be a new model of this by now? Best to do a Google search. Autofocus is important. I bought cheaper webcam soon threw them in the bin. Invest in something good.

Sound:

 Go for the HyperX QuadCast USB Microphone $202**

** NB. I got the more expensive colourful version for my wife, but this one goes great; I can't see the $80 difference for the next level up?

Lighting:

I use these LED desk lights at home. They are dimmable and work well enough to improve the lighting beyond natural light coming into the room. $56
Tip: Add a boom arm to get it up off the desk, to your mouth for podcasting $29
Optional Extras

So sitting is the new smoking (ie a silent killer)? Grab an electric sit-stand desk, so your camera is at the best angle (avoid those double-chins?). $380*
* Add cost of fitting a desktop to this one shown.
NB. Officeworks might be the go? Complete desk c. $800
Grab some decent speakers. Logitech work fine (and you can Bluetooth your music in – winning!) $129
---
3. Best Set-up*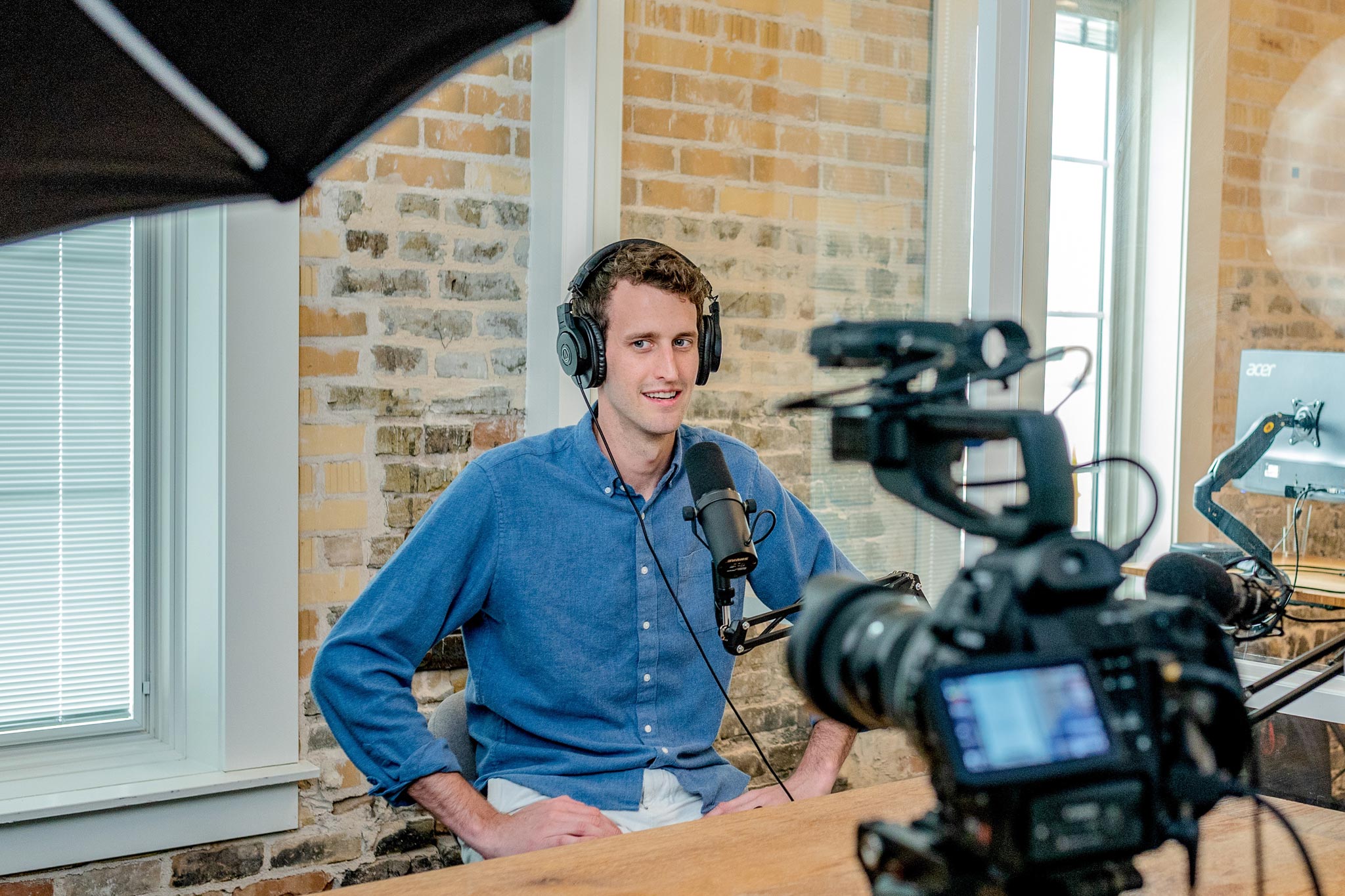 Essentials for Professional Studio Content Creation

Camera: 

Panasonic LUMIX G100 Micro Four Thirds Camera with 12-32mm Single Lens & Tripod Grip Kit (DC-G100VGN-K) $984 (not $1,400+ on other sites!*

* My thoughts on the camera: This thing rocks! Ok, some geek stuff (cut/paste from my videographer, who put me onto this all-new Vlogging camera from Panasonic): The Lumix G100 can input clean direct into your PC computer with a camlink or atem mini, just have to download the software (check out the link).

Tip: Get a pro to set it up for you (ie to configure the 1,000 menu items!), then don't move it! Just switch it on/off. 

Sound:

Grab that Rode Lavalier Mic mentioned earlier and connect into this 'Rode Wireless Go' transmitter and the receiver clips into the camera. (The transmitter has a mic in it, so you can actually just use that, but it's better with the Rode Lavalier Mic.)  Available in white or black. RODE WIRELESS GO COMPLETE MOBILE KIT $420*

* This kit includes the extra 2x cord/connector 'bits' you need AND a spare Lavalier.

Lighting:

There a so many options here, but in the end, I still use these softbox lighting kits $189

Tip #1: I have given you the LED version, but the old school fluro actually seem give off a softer light. It's just that they make the room so bloody hot!
Tip #2: I also bought 2x lots of these after a while; sandbags – to avoid having the lights go @ss-over-head when I bump them.
Optional Stuff
Lighting: Background lighting (ie pointing at the roof, to improve the contrast between you and the screen 2x $190
TV Screen: 55″ works well. Not too large, so as to be walking in front of it. JB HiFi Homebrand works fine, or you might want to amp it up a bit? $599
TV Stand: I bought mine off a mate. This might be better, to avoid kicking the bit that juts out at the floor? (Or is it too flimsy – not sure?) $100
Extra Monitors: So you can see your audience and they see you $180 NB. Feedback from your audience (or lack of it) is one of the toughest things to get used to.
Desk Mount: To mount your fancy new camera onto the height adjustable desk. Be sure to grab this thing to connect the desk mount to the camera.
And Don't Forget
The slide 'clicker, HDMI adaptors, powerboards, 7+ port USB hub for the laptop to accommodate all this extra crap, etc.
Finally…
Consider the addition of an ATEM switcher. Game changer. Pro version is $1,200. Here's what videographer Dan said to me, 'Download the ATEM Setup and ATEM Software Control Apps. Here's a tutorial on the setup and functionality'.  My advice: DO NOT under any circumstances, attempt to 'go it alone' when it comes to setting up the switcher. Consider letting Dan spend half a day, making all of this stuff 'hum' once you have all the packaging sitting in your studio-to-be?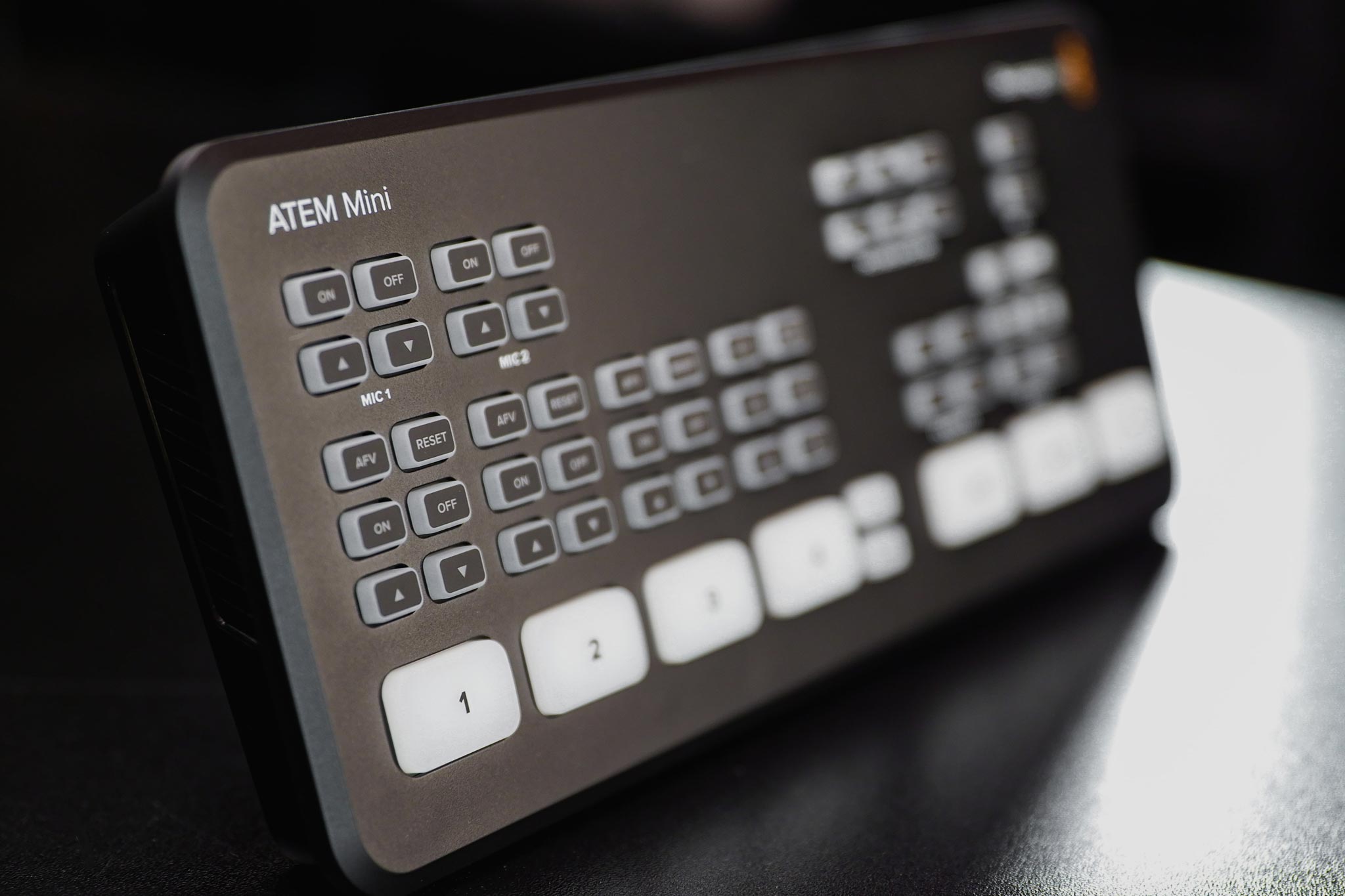 Disclaimer:
All of this is just my opinion, not advice. I have no affiliation with Amazon, eBay or other stores.
If you do need advice, get in touch and I will happily connect you with an expert. 
Coming Soon: All my webinar mistakes using Zoom and more (so you don't make them too)!